Welcome to this exclusive interview with Minos Papas, the talented Director of Photography and Producer behind the critically acclaimed short film Take Me Home, which was in competition at the 2023 Sundance and SXSW Film Festivals. Minos Papas, originally from Cyprus, has spent the last 23 years living and working in New York, from where he operates his production company Cyprian Films, New York. He also leads a sister company, Polyorama Pictures & Publishing, which is based in Cyprus. As a director, cinematographer and producer, Minos is known for crafting meaningful stories that tackle social issues from gun proliferation and war to disability and family loss, and the arts. Minos is a two-time NY EMMY Awardee and winner of Best Online Short at Tribeca Film Festival. Join us as we explore Minos Papas' creative journey and his unique vision for "Take Me Home."
"The image of the MAVO Edge 8K has a gentle, vintage look with high resolution, making it perfect for my aesthetic approach. The color is exceptional, and the final results on the big screens of Sundance and New York Dolby Screening Rooms were truly breathtaking. I genuinely love the MAVO Edge 8K."
 Kine  As a Producer and DP, what was your original intention in creating this film?
 Minos Papas  The film was written and directed by Liz Sargent, and draws inspiration from her personal family and background. "Take Me Home" tells the story of Anna, a young disabled woman who has to find her voice after the death of her mother turns her world upside-down.
Given that the crew would work closely with Anna (performed by Anna Sargent, Liz's cognitively disabled sister and the protagonist of the film) , we had to be particularly sensitive of how we built the environment around the making of the film. Anna is highly perceptive of her environment, necessitating the need for a carefully selected team, who would be warm and generous but not distracting. The mix of long time NYC collaborators and new local Florida crew created a nurturing professional environment where Anna was empowered give her most authentic performance.
Anna — Film stills from Take Me Home 
 Kine  How did you conceptualize the visual style before the shoot?
 Minos Papas  Liz and I did a lot of preparation work, taking the MAVO Edge 8K to Orlando, Florida several months prior to the actual shoot,where we conducted test shoots in Anna's home where we would ultimately film the short.
Florida is known for its year-round sunny weather, but we didn't want to emphasize that aspect. Instead, we wanted to create a moody, bluish interior, which the strong Florida sun would try to penetrate its way in.
To achieve this, we had a subtle blue-tone light filling all the shadows, and stronger daylight-balanced directional units would splash and bounce from the windows, creating contrast. This contrast was intended to highlight the stark difference between indoor and outdoor settings, expressing a feeling of privacy or secrecy.
The MAVO Edge 8K perfectly captures this "clash of environments, with its very broad latitude.
Film stills from Take Me Home 
 Kine   From a shooting style perspective, this film leans more towards a documentary style. Were most of the shots handheld?
 Minos Papas  Although many of the shots were indeed handheld and the film feels very naturalistic, we didn't have a strictly documentary-style approach. In her directing style, Liz creates careful visual compositions that reflect her characters' inner worlds, and we achieved that in many situations with the clutter of the house, or the powerful shot of Anna in the mirror. This approach required us to move swiftly from a stabilizer to a tripod and the MAVO Edge 8K was perfect for its compact dimensions and light weight. The built-in ND filters of the camera are both scientifically designed and practical. There was a scene where we filmed Anna running from indoors to outdoors, which had a significant difference in exposure. We needed to match the bright outdoors with the lower light of the indoors while ensuring consistent parameters. Instead of doing an aperture pull, we were able to utilize the ND to help balance the indoor and outdoor exposure and achieve a seamless transition.
MAVO Edge 8K On Set
© Kim Myers Robertson
 Kine  During the shoot, how did you configure the specifications of the MAVO Edge 8K?
 Minos Papas  We used the full-frame mode, 4K OG, oversampling, native ISO 640 and 2560, KineLOG, and ProRes 4444. The MAVO Edge 8K 45 million pixel sensor is truly remarkable. Its ports are comprehensive and precise, allowing for versatile configurations. I saw some gate stills by Jerome of GAFPA Gear in Amsterdam, and the faces in natural light looked incredible, which I particularly loved.
The image of the MAVO Edge 8K has a gentle, vintage look with high resolution, making it perfect for my aesthetic approach. I started my career as a DP working with film. As cameras and lenses have become sharper and more precise, I aim to reduce the "machine-made" look and achieve texture and softness, without sacrificing definition. The color is exceptional, and the final results on the big screens of Sundance and New York Dolby Screening Rooms were truly breathtaking. I genuinely love the MAVO Edge 8K.
Film stills from Take Me Home 
 Kine  What were some memorable moments you encountered during the shoot?
 Minos Papas  We chose to film long takes and repeat action in a "series". Instead of stopping and starting again for each take, we would film continuously for ten minutes or more.  Since Anna has little short-term memory, Liz would direct her to repeat her action during each take. We created a series of three or four repeat takes without any cuts, and that's why using a digital camera instead of film was an important factor. Anna and Liz's mother, JoanSargent, who played the role of the mother in the film, were first time performers, so this approach helped them feel immersed in their performance. Jeena Yi, who portrayed Emily, is an experienced actress who has performed in many New York theaters and has appeared innumerous American TV shows and movies. Jeena skillfully found the beats in each scene, while following Anna's intuitive performance.
A passionate discussion between Director Liz Sargent and Anna Sargent
© Kim Myers Robertson
Anna is a very kind and open person. She quickly connects with people. If you are kind to Anna, she will love back, so it didn't take much time for Jeena and Anna to build a real connection. To some extent, they became like sisters.
Anna also knew very well that we were making a movie. She understood that it was not "real", but a story based partially on her life. For example, there is a scene in the movie where Anna and Jeena have a fight. They exchange harsh words, and both are screaming. The whole crew felt the intensity as we filmed the scene. But in the end, when we call "cut," Anna went to Jeena and told her that it's okay – it's not real – and that she wasn't actually upset with her.
There were also times when Anna felt the scene was good enough, and she would say "tail slate", indicating that she knew we got the shot.
MAVO Edge 8K On Set
© Kim Myers Robertson
 Kine  Did the post-production process go smoothly, and did the footage meet your expectations?
 Minos Papas  The post-production process went very smoothly as we had an excellent colorist inTaylor Mahoney at TUNNEL POST in Los Angeles. He largely followed my lighting and color palette. The white balance was set to a normal temperature of 5500K, and the bluish shadows were

preserved beautifully during post-production. The low-light performance of the MAVO Edge 8K was truly remarkable. Although there might be some noise present, after applying noise reduction in post-production, it did not affect the quality of the footage at all. A year ago, I shot another film in Cyprus with only firelight and candles lighting the night scenes, and the MAVO Edge 8K performed exceptionally well in those conditions, with the ISO pushed up to 2560.
The production team at the Sundance Film Festival
© Kim Myers Robertson
 Kine  Could you share some of your experiences at the Sundance Film Festival?
 Minos Papas  It's a very special festival that creates a true sense of community among filmmakers. Whether it's independent films or more mainstream works, all are supported there. The experience was fantastic, and we felt right at home.
"Take Me Home" went on to screen at many more festivals, including SXSW, Santa Barbara IFF, Florida Film Festival, Champs Elysee in Paris and more. The film has won several awards at Academy Qualifying film festivals including the Golden Reel Award for Best Narrative Short at the Los Angeles Asian Pacific Film Festival, and a Special Grand Jury Prize at deadCenter Film Festival. Liz and I were especially excited that the film was selected by the Sundance Institute as one of seven short films in the SUNDANCE SHORTS theatrical tour screening in over forty cinemas in the US and Europe. These accolades make the film eligible for an Oscar nomination.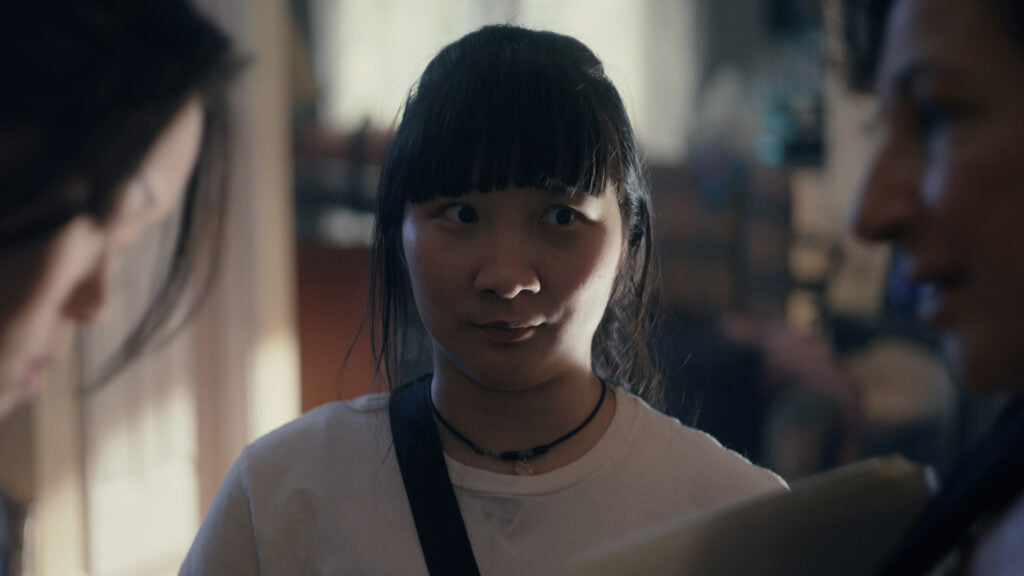 Film stills from Take Me Home 
 Kine  Why did you choose the MAVO Edge 8K to shoot this film?
 Minos Papas  I had previously used the MAVO LF. Four years ago, I took over a project midway and came into contact with this KINEFINITY camera for the first time. When the MAVO Edge 8K was released, I read the specs, and although I hadn't tested it yet, I knew it was the camera I wanted. One of the reasons I like KINEFINITY is that it's very approachable, although some may see it as a bit risky because the brand isn't widely known.
I greatly appreciate the service that KINEFINITY has demonstrated in Burbank and Amsterdam, and that was also an important factor in my decision to purchase. If anything were to happen to the camera, I wanted to be able to find out immediately if there's a possibility to replace the body or components.
MAVO Edge 8K shooting outdoors in hot and humid conditions
© Kim Myers Robertson
 Kine  Did you encounter any issues while using the MAVO Edge 8K?
 Minos Papas  The MAVO Edge 8K is extremely stable. I haven't encountered any serious issues yet. During the shoot, the indoor air conditioning was set to a low temperature, while outside the Florida heat was around 100 degrees Fahrenheit. So, while we had to go outside and wait for the lens to acclimate before shooting, the MAVO Edge 8K didn't require any such adjustment.
I was actually worried because Florida is very hot and humid, but the MAVO Edge 8K performed flawlessly without any issues. It's also very easy to use, especially with its unique operational features.
Minos Papas with his MAVO Edge 8K
© Kim Myers Robertson
We extend our heartfelt gratitude to Director Liz Sargent, Director of Photography Minos Papas, their dedicated team, as well as the captivating performances of lead actress Anna Sargent and the entire cast. Kinefinity eagerly anticipates the creative breakthroughs of each and every artist, and we remain committed to assisting filmmakers worldwide in capturing even more deeply moving and impactful stories.